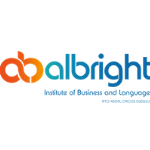 Institute Type:
Private Institution
Main Campus: 341 Queen St Level 2, 8 Melbourne VIC 3000
Additional Campuses:
1.
Level 9, 140 Elizabeth St, Sydney, New South Wales 2000
2.
Level 2, 360 St Pauls Terrace Fortitude Valley, QLD 4006
3.
Level 14, 90 King William Street, Adelaide, SA-5000
Albright Institute of Business and Language and Albright Institute of English deliver Diploma, Associate Diploma and short courses in Business, Marketing, Interpreting and Translation, English and Personal Development.
Established in 2017, we are a Registered Training Organization (RTO) approved by the Australian Skills Quality Authority (ASQA)
Specializing in education for international students, we welcome students from all over the world who have made a decision to study in Australia.
Our facilities are modern, with new classrooms furnished with all the modern equipment for our students to enjoy their study time. Our classes are small and cozy making students feel more comfortable and help their progress. Our trainers have been hand-picked by us and are experienced industry professionals with a broad range of knowledge gained by working across many industries and have a desire to pass their knowledge through the education of students to the highest level using a variety of face to face and online education that focuses on a student-centric learning environment. We think outside the box and bring a wide variety of features that make all the difference in the students' careers and experience in Australia.
At Albright Institute of Business and Language and Albright Institute of English, your education is our priority. We want to ensure that when you graduate, you are job-ready.
Some of the benefits of studying at Albright include:
Our classes are small and personal to ensure you feel more comfortable.
Our trainers and teachers are industry professionals with experience across a wide range of industries.
Our campuses are centrally located in the central business district in Melbourne, Sydney, and Brisbane. And because we are only 12 months old, our classrooms and equipment are modern and new.
We have an impressive network of industry links to assist you with valuable work experience opportunities.
We offer Course Packages that bundle multiple Vocational Education and Training Courses (VET) at reduced fees and allow for up to 2 years of committed study in Australia.
We have a Student Support Team available to support you with counseling and welfare guidance, advice on local banking, accommodation and anything else you may need to assist you settling into your new city.