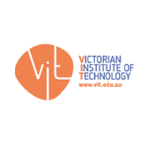 Institute Type:
Private Institution
Main Campus: Level 14, 123 Queen Street Melbourne VIC 3000 Australia
Additional Campuses:
1.
413 Johnston Street Abbotsford VIC 3067 Australia
2.
Level 5, 333 Kent Street, Sydney, New South Wales 2000 Australia
Welcome to the Victorian Institute of Technology (VIT). We aim to provide you with a smart start to your education, giving you a better and brighter future. VIT has been listed as a higher education provider on the Tertiary Education Quality and Standards Agency's National Register of Higher Education Providers since 2014. The Institute's Commonwealth Register of Instructions and Courses for Overseas Students number is 02044E.
VIT has excellent facilities and resources. We have fully equipped 'State-of-the-Art' kitchens, workshops, audio-visual equipment and personal computer labs. VIT's resource center includes a Higher Education electronic library that allows our students to access over 1,000 full-text e-Journals, plus 2,500 e-Books, all accessible 24/7. In addition, we have English Language, Business, Commercial Cookery, Patisserie, Hospitality, IT and Multimedia reference books for students to use on-premises. At VIT, we help our students develop interesting and challenging careers by imparting skills that are in high demand globally. Our courses specifically focus on industry needs and bridge the gap between Secondary Education and Post Graduate Studies. We give our students a solid foundation, in order to pursue their career goals. Our Institute has established a sound reputation for delivering quality education since 1998. Students receive practical and theoretical training while enjoying Australia's unique culture and lifestyle. Our reputation for quality education is evidenced by our collaboration with Edith Cowan University to exclusively deliver their programs in Melbourne and Sydney.