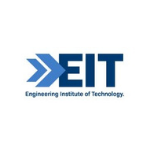 Institute Type:
Private Institution
Main Campus: Level 1 600 Collins Street Melbourne VIC 3000
Additional Campuses:
1.
Level 2 131 Queen Street Melbourne VIC 3000
2.
Marquis Street Bentley WA 6102
The Engineering Institute of Technology (EIT) has been delivering industry-driven programs for over 10 years. EIT offers Australian accredited engineering Diplomas, Advanced Diplomas, Graduate Certificates, Bachelor's Degrees and Master's Degrees. We also deliver non-accredited Professional Certificates of Competency, which are designed to impart skills that can be immediately implemented in the workplace making them ideal for ongoing professional development.
The key objective of the Engineering Institute of Technology (EIT) is to provide an outstanding practical engineering and technology education; from Diplomas through to Masters Degrees. The finest engineering lecturers and instructors, with extensive real engineering experience in industry, are drawn from around the world. The learning is gained through synchronous, online (Online Learning) technologies.