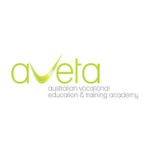 Institute Type:
Private Institution
Main Campus: Level M, 51 Queen St, Melbourne, Victoria 3000
The Australian Vocational Education & Training Academy is a Registered Training Organization that offers courses in Business, Hospitality, Management and English. AVETA provide exceptional education opportunities through offering high quality nationally accredited courses, embracing contemporary and innovative approaches to education.
AVETA offers a variety of Vocational Education and Training (VET) Courses. The Hospitality , Business & Management courses at AVETA provide students with employment related skills to equip them to work in the highly competitive and demanding hospitality and business industries, while developing in students a broad awareness and understanding of the industry.

The main campus is situated centrally in the heart of the vivacious and exciting Melbourne city, offering our students a variety of options to understand the city's enriching culture. A choice of sporting and leisure facilities, Government offices and banks are located within a close proximity to the campus. Students can additionally take advantage of the easy access to Melbourne's central business district and neighboring suburbs through trams, trains and buses available at the doorstep of the Academy. The College has a specially allocated campus with state of the art equipment to help students achieve culinary expertise. AVETA is well renowned for providing its students with world class training equipping them with practical skills which help them stand out on an international level. VETA's campus offers state-of-the-art facilities, with spacious air-conditioned classrooms that are well equipped with the latest technology and equipment. Students have access to a computer lab to enhance their learning experience. Our teaching and demonstration resources are motivating for students. We offer a commercial kitchen for practical training.